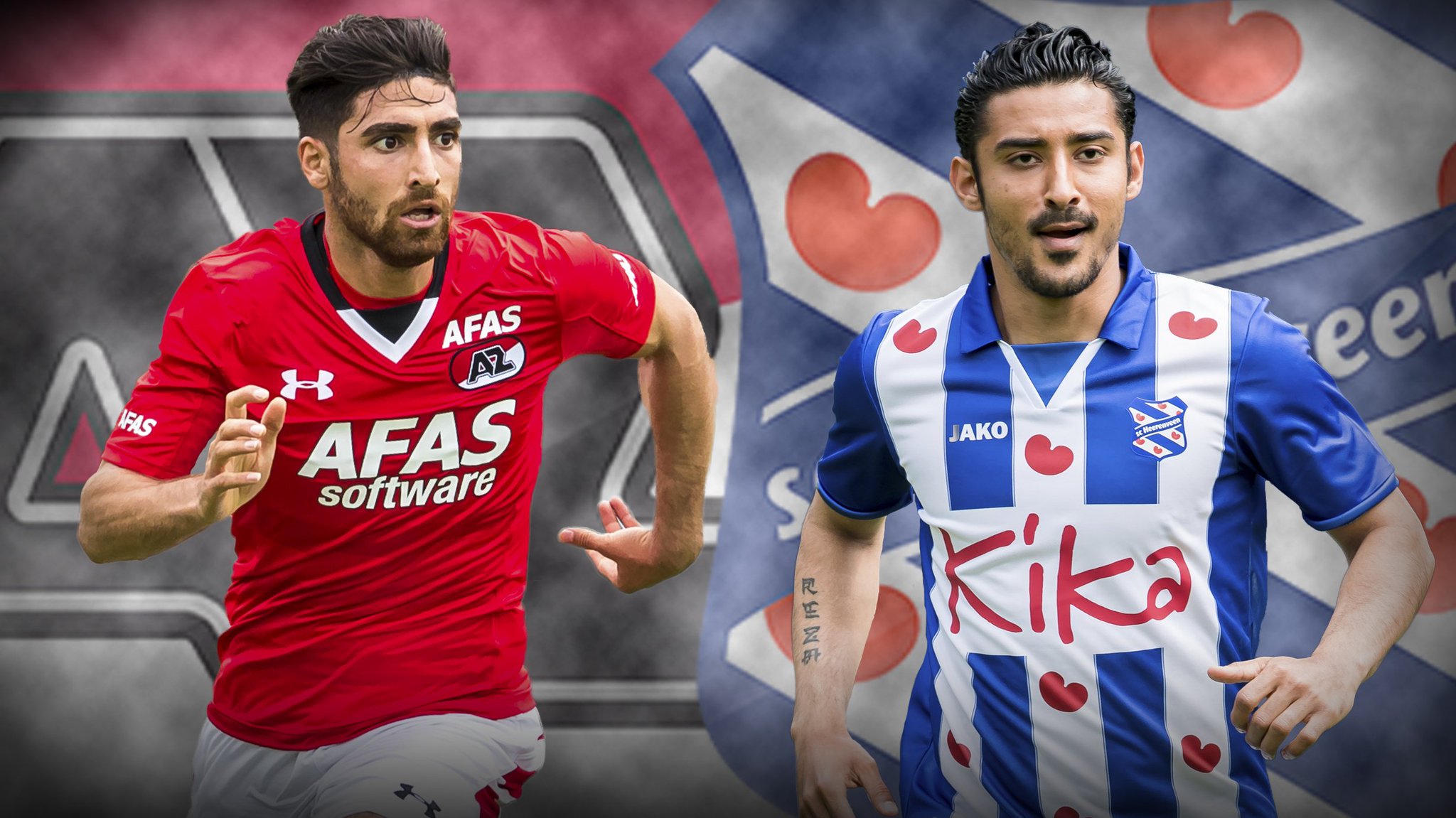 Week 1 of Dutch Premier League, better known as Eredivisie, celebrating 60 years.
In Alkmaar the home team AZ faced SC Heerenveen in a nice game, with 4 goals, ended in a draw. Many Iranian people were waiting for this match to see two stars of Team Melli: Jahanbakhsh and Ghoochannejhad.
Alireza Jahanbakhsh is playing his second season with AZ, after spending 2 years in NEC Nijmegen: the Gilan-born winger is nearly 23 and this Eredivisie could represent an important point to grow up in his young career. Many teams from England and Germany showed interest in Alireza, a fast midfielder and assistman.
Reza Ghoochannejhad came back to Netherlands in the club with whom he made his first professional appearance at 18 in 2005. The stricker wants to get back scoring after one unsuccessful Championship with Charlton, just relegated to League One. He is the only Iranian that scored in the last FIFA World Cup Brazil 2014.
Both the players started in the line-up of the match, on 7 August 2016.
Reza played 75 minutes, replaced by Veerman. Ghoochannejhad tried to beat Sergio Rochet twice in the 1st half: his left footed shots were saved by AZ Uruguayan goalkeeper, the second one saved in the bottom right corner. On the other side, Alireza helped his team to take the advantage, as he assisted Markus Henriksen after 33 minutes. Jahanbakhsh attempted twice, too: at 70′, but his shot was slowed down by an opponent's touch; and with three minutes remaining, when he shot from the right and the ball was blocked by Heerenveen number one.
Iranian fans can be satisfied by their condition, since Carlos Queiroz will most probably call them up for upcoming World Cup qualifiers against Qatar and China,
AZ Alkmaar (4-3-3)
1 Rochet; 23 Luckassen, 3 Van Eijden, 4 Vlaar, 5 Haps; 10 Henriksen, 8 Van Overeem, 30 Wuytens; 7 Jahanbakhsh, 9 Weghorst (81′ #27 Friday), 19 Dos Santos (79′ #28 Levi Garcia)
SC Heerenveen (4-3-3)
1 Mulder; 2 Marzo, 16 St. Juste, 4 Van Aken, 5 Bijker; 19 Van Amersfoort, 6 Schaars, 18 Namli (64′ #25 Huizing); 7 Slagveer, 9 Ghoochannejhad (76′ #20 Veerman), 13 Zeneli (81′ #22 Cavlan)
Goals: 33′ Henriksen (AZ), 40′ Zeneli (HEE), 52′ pen. Weghorst (AZ), 82′ Scaars (HEE)
Bookings: 20′ Bijker (HEE), 43′ Wuytens (AZ), 51′ Van Amersfoort (HEE), 57′ Van Aken (HEE), 68′ Huizing (HEE), 88′ Levi Garcia (AZ), 94′ Veerman (HEE)
Sent-off: 71′ Huizing (HEE) after second yellow card
Referee: Danny Makkelie